HELI uutiskirje nro 3 / 2023
Uusimmassa HELI Companyn englanninkielisesä uutiskirjeessä asiaa mm. i-sarjan AGV tuotteista, yhteistyöstä aurinkosähköteollisuuteen keskittyvän kehitysyrityksen kanssa sekä G3 sarjalaisen maastotrukin esittely.
Mukavia lukuhetkiä!
HELI i-Series Global Launch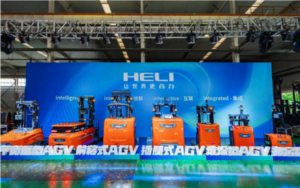 HELI held a global launch of the i-Series on May 26, 2023 with the theme "Smart Interconnec­tion, Enlightening the future". HELI officially launched the new generation of i-Series AGV products at the event. The newly developed and designed i-series, adhering to the "intelli­gent", "innovative", "interactive", "integrated-integrated", and "integrated" design. It is equipped with AGV intelligent handling robot, focusing on the core technology of new gener­ation of intelligent network linkage, around the key areas of embedded software, scheduling algorithm) unmanned driving) navigation and vehicle motion control) intelligent network linkage terminal) intelligent logistics system integration) etc. It is equipped with the first SG intelligent logistics platform in China) and adopts the ultimate technologies such as laser and SLAM navigation) servo motor) automatic charging and vision recognition.
The launch of intelligent i series is an important milestone in HELI's development history, the best proof of HELI's high-quality development, and an important strategy for HELI to acceler­ate the realization of global green and intelligent handling.
HELI X LESSO BANHAO
Application
LESSO BANHAO, a new energy en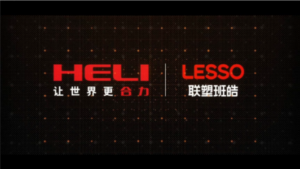 terprise under "CHINA LESSO", which is the world's leading plastic pipe manufacturer. It focuses on the Photovoltaic Industry, adheres to the new devel­opment concept, and is committed to providing a full range of green energy solutions to global customers. In recent years LESSO BANHAO has continued to increase investment in basic innovation put into production intelligent photovoltaic production lines officially, and moved into the stage of large-scale industrialization.
Challenges
Glass, the raw material for the production of photovoltaic modules, heavy in tonnage frag­ile and difficult to handle. High-frequency glass loading and unloading, has high require­ments for the comprehensive performance of forklifts.
Solution
Faced with the high demand for the transfer of materials in the factory, HELI has formulated a one-stop green handling solution. In multiple links such as "raw material storage", "pro­duction line material transfer", and "finished product delivery", HELI helps the enterprise operate low-carbon and efficiently.
HELI G3 lithium battery forklift adopts a tailstock body structure and has strong stability. With high-performance lithium battery has strong endurance and high energy conver­sion rate which can meet the needs of customers for high-frequency safe operation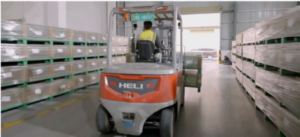 Heli provided the warehouse truck powered by lithium. It is equipped with an integrated con­trol handle which is simple and dexterous convenient to operate and can operate flexibly.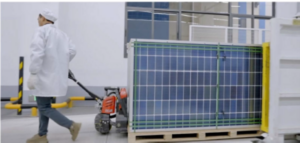 In order to better serve the transportation of auxiliary materials HELI provides ride-on pallet trucks and stand-on pallet stackers. HELI pallet truck is equipped with high-strength forksstepless speed regulation and automatic deceleration functions for turning which is safer; HELI stacker adopts lithium iron phosphate (LiFePo4) battery which works with high efficiency environmental friendly with no pollution.

In the delivery of finished products HELI G2 lithium battery special forklift operates in an orderly manner. The high-endurance lithium battery can be charged and used at any time which can meet our needs of continuous operation throughout the day.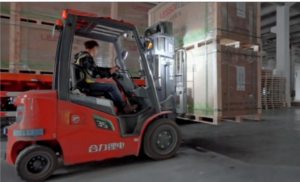 HELI FICS Management System, helps the managers of LESSO BANHAO grasp the fleet information in real time, and better manage the vehicles.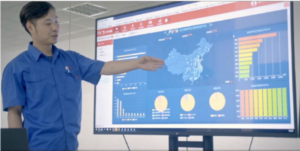 G3 Series Rough Terrain Forklift Truck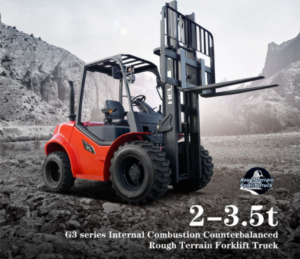 Superior Design
Fashionable and Aesthetic streamlined design
Stable and reliable performance
Dual drive or four-wheel drive off-road tires
Widely used in fields, farms, orchards and other tough road conditions
Powerful & Efficient
Multi-position gearbox with flexible connection;
 Dual drive or four-wheel drive energy conservative and high efficient
Flexible connected drive axle with ultrahigh configuration;
Greatly improved off-road performance hydraulic system with load sensing valve faster lifting speed;
Lightweight mast, widened frame and upper beam of optimized design high carrying capacity.
Stable & Reliable
Off-road wide base tires with large treads;
Improved radiator structure, optimized cooling system, better heat dissipation perfor­mance;
In-position sensing system, effectively avoid misoperation;
 Optimized drive line system, larger ground clearance, lower center of gravity, improved stability and passability;
 Pedal mechanism optimization: inching pedal is connected to inching valve directly;
 Ip65 digital lcd meter;
Sealing structure of 24 cone rubber hose, add "o" type sealing ring, better sealing effect.
Enjoyable Driving Experience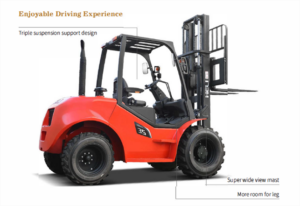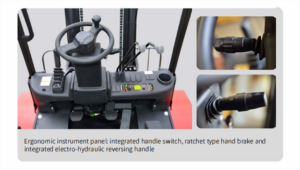 Easy to Maintain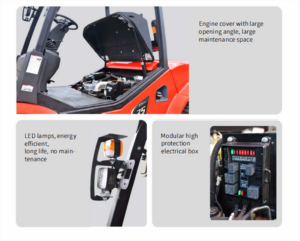 Welcome to HELI Booth at CeMAT 2023
HELI will be exhibiting at CeMAT in Sydney Olympic Park, Australia from July 23-25, 2023.

CeMAT is Australia' s leading trade show for intralogistics, robotics and automation, warehousing, supply chain management and materials handling. We will bring a large number of lithium-ion products and dual-fuel products adapted to the Austra­lian market to this exhibition. Also, our exhibits will include reach truck, walkie stacker, order picker and so on. A wide range of exhibits will showcase our product strength and R&D innovation capabilities.
Have a Great Summer!
HELI Company
***
Tule koeajamaan uusi HELI sähkötrukki!

HELI CPD35 G2
Käyttövoima: sähkö
Litiumakku: 80 V / 404 Ah
Nostokorkeus: 4 700 mm
Nostokyky 3 500 kg
Triplex / vapaanostomasto
Ajokorkeus 2 230 mm
Cascade haarukoiden asetinlaite
Soita ja varaa koeajo tai kysy lisää:
trukkimynti: Kimmo Kytölaakso,
puh. 050 305 0030, kimmo.kytolaakso[at]ohmantrukit.fi
Kysy myös edullista rahoitustamme.
Tutustu HELI sähkötrukkiin tarkemmin klikkaamalla tästä .
Öhman Trukit on täyden palvelun trukkitalo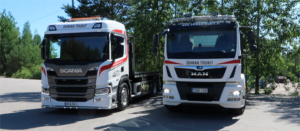 Olemme lisänneet kuljetuskalustoamme vastaten kasvavaan trukkikysyntään. Kuljetamme trukit pääasiassa omalla kalustollamme ja tarvittaessa myös yhteistyökumppaneiden avulla ympäri Suomen.
Meiltä saat uudet ja käytetyt trukit, vuokratrukit, trukkivaraosat ja tarvikkeet sekä huollon. ÖT-verkkokauppamme on aina avoinna ja sieltä saat kätevästi trukkitarvikkeet, varaosat ja varastotrukit.
Palvelemme koko kesän normaaliin tapaan kaikissa trukkiasioissa.
Aurinkoista trukkikesää!
Toivottaa
Öhman Trukit ja Öhmanrent