Trukkiuutisia HELIn valmistajalta HELI Companylta
Julkaisemme HELI trukkien valmistajan HELI Companyn uutiskirjeen, jossa kerrotaan HELIn tuoreimmat trukkikuulumiset. Lisäksi uutiskirjeessä esitellään HELIn tuoteuutuuksia ja kerrotaan HELI trukkituotteiden monipuolisista ominaisuuksista. Uutiskirje julkaistaan englanniksi.
Mukavia lukuhetkiä!

HELI Newsletter No 2. March/April 2022
Greetings! Welcome to the 2nd issue of HELI official newsletter. In the past year of 2021, HELI maintained the leading edge in the forklift industry of China, and HELI has been the No.1 in China for 31 consecutive years.
The year 2022 is represented by the tiger. Since the beginning of the New Year, HELI staff has been in full swing just as a tiger full of fighting will and strength, working hard to provide high-quality products and service for our agencies and customers. HELI Overseas Marketing Department will also continue to release the official newsletter and share a richer variety of HELI trends with you.
In this issue, as in the previous one, we keep focusing on HELI news, selected products, and agency trends. You can see the following highlights:
➢ Company news – about HELI in North America, and in Europe
➢ Product show – meet the HELI's new lithium forklift and pallet truck
➢ Agents news – stories from Asia-Pacific regional agents
Enjoy the reading!
HELI Company
Company news
HELI MODEX 2022: Welcome to the Booth of HELI Looking for the Best Logistics Solution
MODEX 2022 will be held March 28-31 at Atlanta's Georgia World Congress Center. It's the largest international supply chain exposition held in North or South America. MODEX brings together solution providers who demonstrate their equipment, systems and services to manufacturing, supply chain and transportation professionals, seeking productivity solutions for their operations. Over 900 exhibitors will showcase their solutions on the MODEX show floor totaling over 325,000 square feet of manufacturing and supply chain solutions.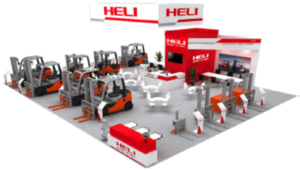 It will be the second time for HELI to participate in the leading trade show. Eleven powerful, highly efficient and environmentally friendly forklift trucks have been carefully prepared for the show, including IC cushion tire forklift, lithium battery forklift, reach truck, rough terrain forklift, etc. The booth of HELI will be located in the B3006. Welcome to HELI's booth seeking the most suitable solution of material handling.
With the establishment and operation of HELI America Inc. in Atlanta, the cooperation between HELI and the North American market has been strengthened, which brings vitality to both sides. In the future, HELI will continue to enhance the competitiveness in the North American market, expand the brand influence, and be committed to providing customers with more convenient and efficient logistics solutions.
Product Show

Q&A: Why Choose HELI G2 series 1.5-3.8t Lithium Battery Forklift?
G2 series lithium forklift is HELI new series in the lithium-ion product range, born for lithium choice. Since the launch, the products have been well received by the market and users. Why this lithium product became a popular choice in the warehousing and construction sectors? Let's find the answer!
Q: What kind of scenarios G2 lithium forklift can be applied?
A: Combining the advantages of IC and electric products, HELI designs the more powerful, reliable, compact, and flexible G2 lithium forklift. It can be widely used in industries and fields such as airport logistics, petrochemical, food and medicine, feed, cold storage, railroad transportation, and new materials industry. It was first launched in 2-3.5t. In response to the customer's requirements, HELI has now expanded the tonnage options with 1.5t, 1.8t, and 3.8t, fully covering the small tonnage range. Meanwhile, HELI provides three configurations* for customer choice: H-High/M-Middle/S-Standard. The H and M type is comparable with internal combustion trucks in terms of comprehensive performance.
* 3.8t model provides 2 configurations – M and S type.
Q: What is the advantage of the G2 lithium forklift?
A: The 1st advantage can be found in strong performance. Compared with the competitive product, the truck is powerful in driving speed and lifting performance. For example, the 3t model with High configuration can reach a higher level of speed than other brands, even as good as IC forklift, ensuring the operation with high efficiency.
(Chart of performance comparison between G2 3t lithium H model and other brands)
G2 lithium forklift is also strong in grade ability. It can reach a maximum of 22% with the load.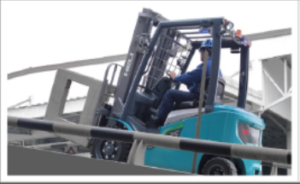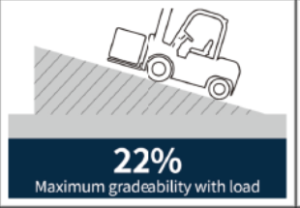 The 2nd advantage is intelligence and safety. Automatically cornering deceleration; Bilingual color screen instrument; PES Three-speed mode; Low temperature auto-heating lithium battery…The truck is smart and eases your operation in all aspects.

(Automatically Cornering Deceleration)
Then, the optimization on comfortable operation will show you the 3rd advantage. HELI cares about the ergonomic design for giving the user extreme driving comfort.
Wide front view ; IC truck type control valve system; Sedan type hand brake.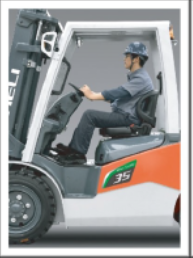 Large space underfoot and above the head of driver.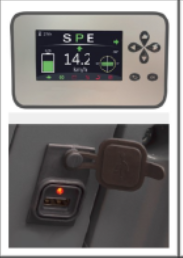 Colored smart display with detailed indicators; USB plug as standard.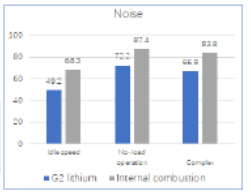 Low noise.
G2 lithium forklift adopts the hood design from the IC forklift. The high-quality isolation sheet inside the hood keeps the noise away from the driver. From the chart, you'll find great control on noise, in comparison with IC forklifts.
Q: How reliable is G2 lithium forklift?
A: HELI G2 lithium forklift adopts high-quality and reliable components which have been proven in the market, like the integrated cast drive axle and reinforced cast steering axle, the iron phosphate lithium battery. They all effectively ensure operation safety.
The overall forklift passed various rough operating environment tests, including 200mm wading test, -20°C cold storage test, bumpy road test, IPX4 waterproof… so, there's no fearless of any rough applications.
Q: Will it be complicated to service the G2 lithium forklift?
A: Not at all. With the smart design, HELI centralized the checkpoints, so easier to do maintenance. Firstly, the electrical elements are gathered on the battery top. You can reach quickly the main checkpoints by lifting the hood of the big opening degree. Then, brake fluid within reach, easy to check and refill. Moreover, don't forget the lithium battery is maintenance-free, no need for manual maintenance and to add distilled water- electrolyte.
Q: What can we expect from the new 1.5t, 1.8t, and 3.8t models?
A: Based on the 2-3.5t G2 lithium forklift, HELI developed 1.5-1.8t to fit the requirement of ght operation or narrower working situation. It has nearly the same performance with 2-3.5t. Although the compact body, the 1.5-1.8t's cabin is compatible with 2-3.5t, so no worries for the operation space. HELI provides as well three configurations.
Regarding the 3.8t, it meets the slightly heavier/loading demands, or with big attachments or high lifting height. In such cases, 3.5t may not be enough. The 3.8t model ensures more stabilization. HELI provides two configurations on this tonnage.
The new models will be officially launching soon. Please keep following HELI.
HELI Upcoming New Lithium Pallet Truck – More than Your Expectation!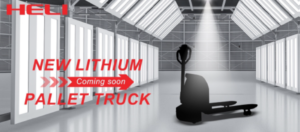 As one of the classic and popular model of HELI warehouse products, HELI 1.5-2t lithium walkie pallet truck is perfect for ultra-narrow aisle operations, which is widely used in food, supermarket, logistics, medicine, and other industries.
HELI has never stopped the pace of product upgrading and innovation. Recently, HELI is in the process of releasing the upgrading 1.5-2t lithium battery walkie pallet truck and would officially launch soon, which has further improved the performance of the truck. Owing to the optimization of structural design, the operation is more comfortable. Meanwhile, it has the typical feature of making charging worry-free and more convenient. Additionally, the truck quality is further enhanced.
Aiming to pursue excellence, HELI never stops progressing. Everything you seek and expect on a walkie pallet truck, you can expect from HELI.
HELI will continue to introduce more details related to this new product, so stay tuned!
News
From Thailand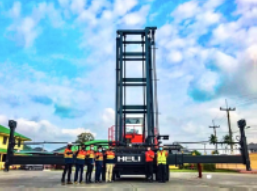 HELI agent in Thailand delivered 8t 5-layer empty container handler to the customer in container yard. In view of the port and wharf scenario, HELI develops 46t container reach stacker and 18-25t empty container handler. The 360° view high cabin ensures wide front view and head view, and the small turning radius brings higher mobility. This model can help customers with empty container transportation and stacking up to 8 layers.
From Australia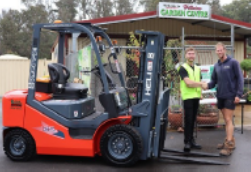 Here is the story of a HELI Australia's agent. In 1996, Mr. W founded the company in Perth. In the same year, his first son, Mr. R, was born. Since then, Mr. W started to become the agent of HELI forklift. Nowadays, R joined his father's forklift sales team and recently. delivered his first new HELI forklift. To some extent, it was a kind of spiritual inheritance. Over the years, HELI and its agents have been committed to consecutively providing customers with high quality logistics handling solutions.
From New Zealand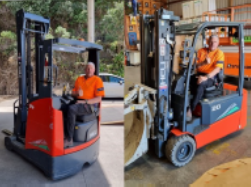 HELI agent in New Zealand delivered G2 series models to customer in paper industry. The combination of the 3-wheeler electric forklift + reach truck has allowed for a greater efficiency. HELI is committed to be your one-stop material handling solution expert, for different series, tonnages, configurations for diverse usage scenarios.
In addition to the official newsletter, you are also encouraged to follow our social media accounts and interact with us at any time!
Facebook:https://www.facebook.com/heliforklifts
LinkedIn:https://www.linkedin.com/company/heliforklifts/
Youtube: https://www.youtube.com/c/HeliForklift
You can find the new HELI forklifts on our Öhman Trukit website here .