Trukkiuutisia HELI trukkien valmistajalta HELI Companylta
Julkaisemme HELI trukkien valmistajan HELI Companyn uutiskirjeen, jossa kerrotaan HELIn tuoreimmat trukkikuulumiset. Lisäksi uutiskirjeessä esitellään HELIn tuoteuutuuksia ja kerrotaan HELI trukkituotteiden monipuolisista ominaisuuksista. Uutiskirje julkaistaan englanniksi.
Mukavia lukuhetkiä!

HELI Newsletter No 1. January/February
To the Readers
Happy New Year!
At the beginning of 2022, we are releasing this 1st Issue. The newsletter will be published bimontly and will have 2 mains sections:
Company news –  news of HELI headquarters and overseas companies
Product Show – HELI products selection with features overview.
We wish you and your loved ones good health, happy life and prosperity for 2022!
Enjoy the reading!
Company news
HELI Honored on ESG Top 100 A-Share Companies
Recently, "ESG Top 100 A-Share Companies" compiled by the Securities Times was released at the "ESG Development Seminar & 2021 Annual Meeting of Chinese Securities Companies". HELI was ranked among the list.
ESG sustainable investment is an investment practice that integrates the three dimensions of environment (E), social responsibility (S), and corporate governance (G), which is highly concerned and widely recognized by China's financial industry. According to reports of the third quarter of 2021, the ESG Top100 A-Share Companies are highly favored by institutional funds. HELI has prominent advantages in financial quality, social responsibility, corporate governance, market performance  and other aspects; the QFII  shareholdings also ranks the top.
The ranking in the "ESG Top 100 A- Share Companies" represents a high degree of recognition by the financial media and the capital market of the company's efforts. HELI will take advantage of enterprise technological innovation to achieve green development; promote the transformation and  upgrading of intelligent manufacturing in the industry; actively empower the outside world to help the industrial vehicle industry achieve low-carbon growth and contributes to the high-quality development of China's economy.

"The ranking in the "ESG Top 100 A-Share Companies" represents a high degree of recognition by the financial media and the capital market of the company's efforts.
HELI's Exportation in 2021 Crossed 60,000 Units Cumulatively
On December 6th 2021, HELI held a ceremony to celebrate the cumulative shipment exceeding 60,000 units. Over the past one year, a number of challenges arose because of the COVID-19's repeated resurgences: poor global supply chains; insufficient energy supplies and soaring prices; significant decreases in container and ship turnover rates; continued increases in shipping costs; and inadequate labor supply. The global economic recovery has slowed overall. All these issues affected our work and our lives. In the face of those various obstacles, HELI worked together with all the partners to overcome successive difficulties and achieved a new record of annual output and sales volume, leading the Chinese forklift industry once again.
According to WITS statistics, the number of orders for Class I-V forklifts in overseas markets (excluding mainland China) from January to November 2021 has exceeded 1.36 million units, an increase of 55% compared to the same period last year. And the number of export shipments from HELI has surpassed 60,000 units, with an increase of over 70%. HELI is looking forward to creating new business successes in 2022 with all the partners.
Product show
 
HELI Product Show You All the Possibilities
CLASS I – Electric Forklift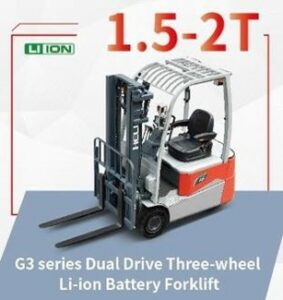 G3 series 1.5-2t three-wheel Li-ion forklift  
is new released model for HELI G3 family in October 2021. Upgraded based on the G2 series same type product, it has the advantages of dual drive, mobility and flexibility, environmental-friendly, low noise and high efficiency. It is especially suitable for tobacco, food, cold storage, textile, electronics and printing industries.
6 Keywords to know
Superior performance
Equipped with ZF dual drive box and dual AC motors, the forklift has a high travel speed up to 17 km/h, no-load lifting speed of 0.6m/s and full-load lifting speed: 0.45m/s. It can easily climb 22% of slopes at full load.
Comfortable driving experience
You can find all the generous design from large boarding space, metal anti-slip pedals, flat foot space, car-style rear extension valve, reversing rear handle with horn switch, foot-operated parking brake and color screen instruments.
Stable at high level bearing
It adopts imported German shaped steel and the reinforcement plate to enhance the strength of the mast. By increasing the rear overhang, elongating the body and improving the longitudinal stability, together with the intelligent stabilization system, G3 series maintains the same excellent high level bearing capacity as the G2 series.
Compact and flexible
90° corner steering axle allows for a smaller turning radius of 1.54mm. Precision corner potentiometer enables more sensitive and precise steering.
Fast charging
The standard battery (80V/202Ah) of this G3 model can be fully charged in one hour.
It can operate for 13.3 hours after full charge, which is comparable to the range of the optional larger battery (48V/542Ah) in the G2 series.
Smart and Safety
The truck can adopt several intelligent functions:
Intelligent stabilization system (mast ≥ 4m); Intelligent scene speed limit;
Intelligent limit buffer on mast;
Intelligent operation protection; Intelligent control strategy;
Automatic cornering deceleration; Intelligent low-temperature charging.

CLASS II – Reach truck
G2 series 1.6-2t Li-ion reach truck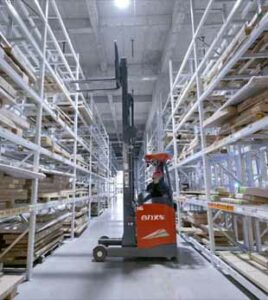 (Sit-down Type)
is capable of handling your needs right up to 12,500 mm. As a perfect choice for intensive warehouses, it is equipped with an 80V battery and high power in a compact structure. Another decisive aspect completed by small size steering wheel with EPS electronic power steering system, which allows a rapidity extraordinary in flexible operation. The performance has been fully improved, with more emphasis on human-machine interaction, energy saving and environmental protection, safety, and efficiency.
CLASS III – Warehouse equipment
1-1.2T Electric Low Level Order Picker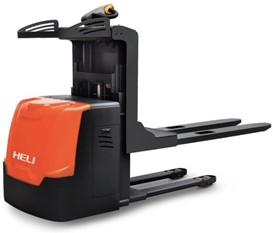 has the features of ergonomic human engineering design, which enables the truck convenient and comfort operation. Perfectly suitable for low-level picking operation scenarios, as well as in narrow workplaces because of the small turning radius. Side-way battery, EPS, and low voltage protection system are standard, enabling high efficiency and security.
CLASS IV/V – IC Forklift
K2 series 2-3.8T IC Forklift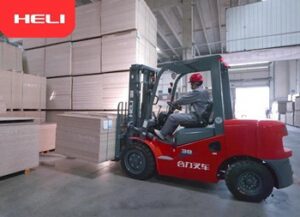 is an upgrade model based on HELI's classic K series product. Owing to strict structural design, manufacturing and testing, it is the benchmark of HELI's new generation internal combustion forklifts. A variety of engine options with strong power meets different customers requirements. The different tonnage range from 2 to 3.8t satisfies different working scenarios.
3 Keywords to know 
Upgraded performance
Compared with the generation K, the lifting speed of the forklift increases by about 13%, and the operating efficiency upgrades by 20%. 82° large turning angle steering axle provides smaller turning radius, and more flexibility.
Improvement on reliability
The forklift adopts the reliable transmission and axle system which are integrated with a number of advanced reliable technology. It has the advantages of durability by fully upgraded the braking, steering, lifting and hydraulic system. All the improvements enables the forklift service life extended and reliability further improved.
Comfort driving experience
Configuration upgrading and smart design ensure a comfort driving experience. You'll find highlights everywhere from K2 series: operation space with more ergonomic setting, mast with wider view and lower buffer, new hood structure for easy maintenance, etc.
News
From Pakistan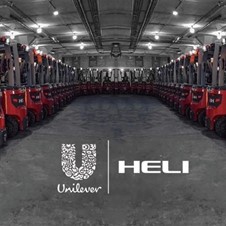 HELI Pakistan agent delivered 24 units of G2 series special Lithium-ion power forklifts to Unilever Pakistan Ltd. The products were highly recognized by the customer, meeting customers' increasing need for more environmentally friendly, high-efficient and energy-saving solutions. HELI Li-ion forklift is tough and reliable, with a commitment to performing the very best both on and off the field.
From UK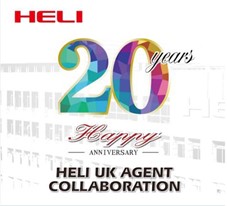 HELI and UK Agent celebrated together the 20th anniversary of cooperation. From 2001, the past 20 years have been a journey of productive and win-win cooperation with historic achievements, also full of an enjoyable and illuminating souvenir. We will continue bolstering active interactions from both sides, and building the future together with this super enthusiastic and professional team.
From Southeast Asia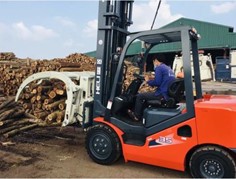 HELI agent in Southeast Asia delivered forklift with designed attachment to customer. Equipped with a specially designed attachment, customer can grab wood at a timber plant easily with HELI forklift.
To keep up with the demand for different equipments, HELI 2,300 kinds of attachments can be customized for any fast-paced environment and handle specific tasks.
Find HELI  and follow on social media
YOUTUBE: https://www.youtube.com/c/heliforklift
LINKEDIN: https://www.linkedin.com/company/heliforklifts
TWITTER: https://twitter.com/heliforklifts
FACEBOOK: https://www.facebook.com/heliforklifts
You can find the new HELI forklifts on our Öhman Trukit website here.