Trukkiuutisia HELIn valmistajalta HELI Companylta
Julkaisemme HELI trukkien valmistajan HELI Companyn uutiskirjeen, jossa kerrotaan HELIn tuoreimmat trukkikuulumiset. Lisäksi uutiskirjeessä esitellään HELIn tuoteuutuuksia ja kerrotaan HELI trukkituotteiden monipuolisista ominaisuuksista. Uutiskirje julkaistaan englanniksi.
Mukavia lukuhetkiä!
PS. HELI CPD35 G3 litiumsähkötrukki on nyt koeajettavissa yrityksemme tiloissa Lahdessa. Sovi koeajosta soittamalla 010 420 4431. 
Tutustu tarjoustrukkiin tarkemmin nettisivuiltamme klikkaamalla tästä . 

HELI Newsletter No 4. July/August
To the Readers
We are now into the second half of 2022. Looking back on the past six months, HELI has delivered a satisfactory performance in terms of business, products, strategic expansion, etc., and achieved self-breakthrough.
We hope that you have also had an energetic and fulfilling first half of the year and have reached the milestones which were set at the beginning of 2022.
Regards to this newsletter issue, you'll find:
➢ Review of HELI's first half year & What's new in HELI Southeast Asia
➢ More possibilities of HELI on attachments segment
➢ Events and news from HELI's dealers in the Americas
Moreover, in the new content "HELI Team", this time, let's check out HELI-ers' story for the sales team for business of the Americas.
We wish you a happy start of Autumn and look forward to seeing you in mid-September with next issue.
Enjoy the reading! 
HELI Company
---
Company News
HELI achieved strong business growth in the first half of 2022
In the first half year, HELI'S business development is encouraging. Sales revenue increased by 68%, as well as setting a new high for the monthly export volume.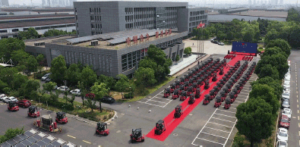 Despite the complex international environment and challenges which overseas markets faced in 2022, HELI-ers and its overseas partners have worked together to overcome difficulties. In the first half of 2022, HELI achieved strong business growth and exceeded expectations. As a major economic indicator, sales revenue increased by 68%, of which after-market service revenue rose by 27%. The export volume of forklifts increased by 27%, and at the same time, HELI also sets a new high for the monthly export volume of forklift trucks.
In order to promote the realization of the goal, HELI cooperated with global partners and took multiple measures simultaneously. Non-stop marketing activities made HELI appear in professional events in the United States, Germany, Hungary, Spain, South Korea, Australia and other countries, which consolidated and enhanced HELI's market reputation; Based on market demand, HELI also insisted on product innovation, witnessing the launch of new members of the lithium battery family with global partners; Meanwhile, HELI has won the trust of the industry's top customers and large tender orders in South America, Southeast Asia, the Middle East, and other large-scale bidding orders; Focusing on the strategy of globalization, HELI established new overseas company in the UAE, which will provide quality products and services to the MENA market more directly.
In 2022, HELI released new concept for its name – Handling for H, Electric for E, Logistics for L and Intelligent for I. Looking ahead to the second half of 2022, HELI will continue to implement product and market strategies around the four themes, and achieve or even exceed the annual target.
New Warehouse operation of HELI Southeast Asia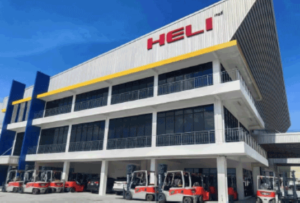 For quick respond to the local market demand, improve the service capability and core competitiveness, after 3 years' operation, HELI Southeast Asia Co., Ltd opens new warehouse in this June.
1,5 km away from the existing base, the new independent building can be found, with HELI logo sparkling on the top. The warehouse covers about 5000 square meters, integrating main functions for office area, storage, exhibition hall, AGV demonstration, dealers' conference, and training.
Committed to providing professional, reliable and efficient logistics solutions, HELI Southeast Asia Co., Ltd has played an important role in the rapid development of HELI's business in this region. HELI has achieved breakthrough in the Thai market, reaching 30% market share in the Thai forklift industry.
While new warehouse is in operation, large-scale after-sales training was held, covering the main dealers of the surrounding area and nearly 100 people participated in the training.
Combining theory and practical communications, this training enhances maintenance skills of the service personnel and is significant to provide customers with more professional product promotion, more qualified after-sales service and higher customer satisfaction.
---
Product Show
HELI Attachment –  Make your forklift not only for lift! 
Specific industries and applications often require special forklift attachments, which can make your forklifts more versatile and efficient, adding flexibility to pull, push, clamp, lift, side-shift and rotate. HELI attachment is a good helper for forklifts and widely used in warehouse, papermaking, tobacco, port, construction, and many other industries. The products share about 25% market in China and are sold all over the world. HELI attachment factory provides more than 2300 models of attachments, such as side-shifters, fork positioner, paper-roll clamp, bale clamp, block clamp, rotator, push and pull, and many others you can find on the market. We will choose 3 representatives for detailed introduction.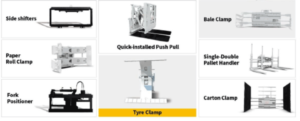 3 representative attachments
Side-Shifter
The side shifter is the most commonly used attachment installed in the forklift. It helps the goods on the fork to move laterally by a distance of 100mm or 150mm, which facilitates the fork and stacking of the goods, and greatly improves the flexibility of the forklift and productivity. Suitable for all kinds of forklift operations. At present, HELI Attachment has an annual output of 100,000 side shifters and a daily output of 600 units, with fast delivery and reliable quality.
Paper Roll Clamp
The paper roll clamp is  widely used in paper roll industry for damage free roll handling with maximum efficiency. As is known, paper rolls are heavy, prone to damage, difficult to handle and very expensive. And also the transport chain of the paper rolls is often too long, requiring as many as 16 stages before the paper rolls is often printing machine.Thus, it is a good helper.
We offer a full line of paper roll clamps to handle paper rolls regardless of diameter, weight or type of paper. For paper roll handling of every size, in industries from stevedoring to printing, Our Paper Roll Clamps will deliver.
Bale Clamp
Bale clamps can efficiently and economically handle any type of baled product including cotton, flax, wool, hay, rags and recycled clothing.
There're 2 popular types of bale clamp: one is pulp bale clamp, which is normally designed to carry 1, 2, 3, 4, 6 or 8 pulp bale units at a time. Sometimes the same clamps are also used to handle single bales and non-unitized bale sets. Another one is for recovered material like waste paper, which is collected from the consumers, then compressed into bales and transported to the pulp factory. Waste paper bale handling is generally harsher than any other bale handling operation, and attachments often need increased protection against wear and tear, and all moving and hydraulic components must be well protected against hitting and dropping objects.
Of course Whether you're handling any baled goods, HELI can offer a solution.
You can watch introductory videos about HELI's Additional devices here .
---
Dealers News 
From Canada
HELI Canada dealer recently held its annual dealer meeting at Centrexpo Cogeco in Drummondville, Quebec. During the meeting, 10 dealers were recognized in the 2021 Dealer Distinction Award Program, awarded respectively for platinum, gold, silver and bronze.
During the conference, HELI Canada introduced HELI's high-quality products, including lithium electric forklifts, spare parts, pallet stackers and so on. Through this meeting, dealers had a deeper understanding of HELI's sales policy and enhanced their confidence in HELI's bright future.

From Chile
HELI Chile dealer recently delivered 2 units of G3 series rough terrain forklifts for mining industry customers. With 4-wheel drive and safety features to keep the users safe, HELI rough terrain forklifts are ready for all-terrain use. Owing to the exceptional climbing ability, whether on muddy, non-linear or gravel surfaces, they can reach that others cannot. Besides, the vehicle is stable for the optimized radiator structure and cooling system. Suitable for the construction, mining, forestry and agriculture industries, HELI rough terrain forklift is a reliable, hardworking and durable partner.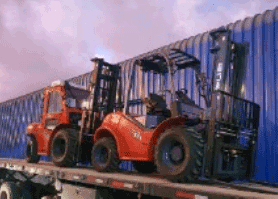 From Brazil
Recently, we received positive feedback from HELI Brazil customer for the 2.5t lithium electric forklifts in wood manufacturing industry. HELI lithium electric forklift can satisfy 2-3 shift operation, having the case that vehicle working 13 hours on a single charge and arriving still 36% charged. Meanwhile, it has lower consumption compared with Internal combustion truck.
Nothing better than the customer speaks for us! HELI lithium products have the advantages of environmental protection, low noise, maintenance -free, high efficiency and energy saving. Choose the right lithium electric according to your needs!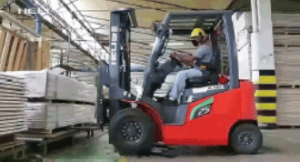 ---
In addition to the official newsletter, you are also encouraged to follow our social media accounts and interact with us at any time!
HELI Company's sosial media accounts:
Facebook:https://www.facebook.com/heliforklifts
LinkedIn:https://www.linkedin.com/company/heliforklifts/
Youtube: https://www.youtube.com/c/HeliForklift
Follow HELI Finland dealer Öhman Trukit sosial media accounts:
Facebook:https://www.facebook.com/OhmanTrukit/
LinkedIn:https://www.linkedin.com/company/heliforklifts/
Youtube: https://www.youtube.com/c/HeliForklift
You can also find the new HELI forklifts on our Öhman Trukit website here.
You can find the new HELI forklifts on our Öhman Trukit website here .