Trukkiuutisia HELIn valmistajalta HELI Companylta
Julkaisemme HELI trukkien valmistajan HELI Companyn uutiskirjeen, jossa kerrotaan HELIn tuoreimmat trukkikuulumiset. Lisäksi uutiskirjeessä esitellään HELIn tuoteuutuuksia ja kerrotaan HELI trukkituotteiden monipuolisista ominaisuuksista. Uutiskirje julkaistaan englanniksi.
Mukavia lukuhetkiä!

HELI Newsletter No 3. May/June 2022
To the Readers
The MAY-JUN issue of HELI newsletter is here!
In the passed spring season, HELI made further steps.
Firstly, HELI reinterpreted who is HELI. New video is released online and you'll find how HELI redefines the 4 letters H, E, L, I. (Click "New video" to find the answer) Then you'll find HELI's expansion on overseas layout, and on products range… Moreover, HELI's dealers keep moving as always, which is indispensable to support HELI's further growing.
You'll see more details in this new issue:
➢ HELI MIDDLE EAST FZCO starts in Dubai
➢ 3rd generation lithium pallet truck released
➢ Events and news from HELI's European dealers
At last, don't forget to follow HELI's social media accounts. Looking forward to having more interaction with you.
Facebook:https://www.facebook.com/heliforklifts
LinkedIn:https://www.linkedin.com/company/heliforklifts/
Youtube: https://www.youtube.com/c/HeliForklift
Enjoy the reading!
HELI Company
---
Company News
HELI Middle East FZCO Successfully Registered, Overseas Layout Continued to Expand
On March 16, 2022, HELI Middle East FZCO was officially registered in JEBEL ALI Free Trade Zone in Dubai, UAE, marking an important step forward in HELI's internationalization strategy of the 14th Five-year Plan. With the registration of HELI Middle East FZCO, HELI sales team of the Middle East region has gathered in Dubai.
In the next step, HELI will promote the decoration of the warehouse and office space, the development of business and e-commerce platform. The soft open is on 24th May. It is expected to finish the construction in few months.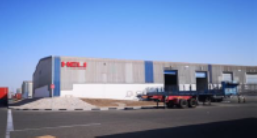 In the face of complex and changeful overseas markets, HELI Middle East FZCO, based on the UAE, will focus further on the MENA market. To keep the "TOP 1" Chinese forklift brand in the Middle East market, HELI will combines its own advantages and explore market opportunities, finally to promote its international competitiveness and brand influence.
From 2014 to 2019, HELI established HELI Europe (Calais, France), HELI Southeast Asia (Bangkok, Thailand) and HELI America (Atlanta, USA). HELI will continue to promote the construction of overseas companies and complete the international layout by the end of 2025. HELI will gradually take overseas companies as its regional headquarters and set up offices in key countries to get closer to the market and customers.
HELI 5500lbs Hydrogen-Powered Forklift – Made A Debut Appearance at MODEX 2022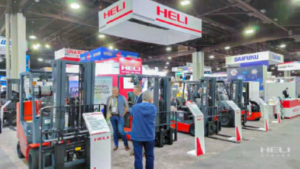 MODEX 2022 was successfully held at Georgia World Congress Center in Atlanta from March 28 – arch 31.
At this leading trade show, HELI presented our hottest products for the North American market. For the first time, HELI exhibited 5500 lbs(2.5t)hydrogen fuel cell forklift with cushioned tires at an overseas exhibition, which became the highlight of the show, marking that HELI hydrogen products began to enter the North American market.
On October 28th 2021, HELI released the first hydrogen fuel cell forklift in Shanghai. HELI hydrogen powered forklift has been applied and popularized in China market.
On MODEX 2022, the exhibited hydrogen model was developed according to the characteristics of the North American market, in line with the use scenarios and actual needs of local customers.
With the operation of HELI America Inc. in Atlanta, the cooperation between HELI and the North American market has been strengthened. In the future, HELI will continue to enhance its competitiveness in the North American market, expand its brand influence, and be committed to providing customers with more convenient and efficient logistics solutions.
---

Product Show
Heli New 1.5-2t Lithium Pallet Truck  – As your hand, lighten the workload!
Owing to the successfully launching of HELI's new upgrading (3rd generation) 1.5 -2 ton lithium battery walkie pallet truck on April 8th, HELI overseas orders continue to surge during the past month. Compared with HELI's previous lithium pallet truck, the 3rd generation is more efficient and reliable with the optimized structure, ergonomics and maintenance,which puts great emphasis on safety use. 
Optimized Structure
Based on the optimized structure, the operating comfort is greatly improved. Meanwhile, the truck quality is steady increased by adopting the reasonable harness layout. Additionally, it can meet different needs of customers with multiple configuration options.
Upgraded Ergonomic
The new 3rd generation lithium truck specially installs with the large button handle, which provides a better operating experience. What's more, it is equipped with an LCD electric meter, which is easier to check the remaining battery power and convenient for customers to charge in time. It is suitable for the operation needs of different cycles.
Convenient Maintenance
By virtue of maintenance-free lithium battery and external charger, it is more convenient for the subsequent maintenance.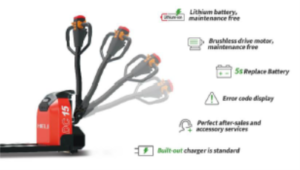 ---
Customer Case 
Customer case from Thailand, which engaging in daily chemical and paper industries respectively. The upgrading lithium truck has greatly enhanced the working efficiency. You can watch the videoreleased by HELI official Youtube account, click on the video here . HELI is committed to the pursuit of becoming an expert in logistics handling solutions. Based on the development concept of continuous progress and innovation, HELI provides customers with products suitable for different application scenarios, and continues to provide users with high-quality logistics solutions.
Now, the product is fully available. For more information, please contact HELI sales staff click on the website here .
---
G3 2.5-3.5t 80V Dual Drive Lithium Forklift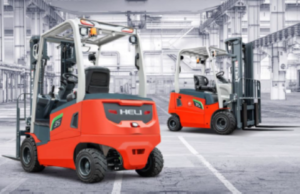 G3 series 2.5-3.5t dual drive lithium forklift takes an important part of HELI lithium-ion product family.  It is mainly applicable to users who are particularly demands of "dual drive", "wet brake", "side extraction battery", "narrow aisle" and "right valve operation"…
Positioning the high-end market, the model provides all the advantages of G3 series electric product range, integrating compact and flexible overall design, reliable manufacturing, strong performance, excellent stability, high efficiency, smart ergonomics…You can find HELI's effort on R&D and innovation of electrification and intelligence.
The G3 series product range is well known and received by the market. Let's focus more on the 2 keywords: 80V & Dual Front Drive.
*80 Voltage
80 voltage system ensures a faster charging. The standard battery of 404AH can be fully charged in 2 hours, meeting the needs of multi-shift work.
*Dual Front Drive
HELI adopts ZF dual front drive axle, integrating dual AC drive motors, hub reduction, differential, oil-cooled disc wet brakes. The axle provides higher efficiency but with lower noise, as well maintenance-free, reliable quality, and protection class of IP54.
HELI has now a full product range for 80V G3 series on small tonnage, including 1.5-3.5t four-wheeler models, and 1.5-2t three-wheeler, suitable for tobacco, food, cold storage, textile, electronics, printing and other scenarios of indoor using.
Don't hesitate to contact us and visit www.ohmantrukit.fi and www.heliforklift.net for more details.
---
Agent News
From Czech Republic
HELI Czech dealer delivered an 8.5t lithium-ion orklift truck to the Czech branch of multinational engineering enterprise A. The company A is one of the world's top 500, which indicates that HELI's products are highly recognized by the industry. The 8.5t lithium battery forklift is tough and reliable, with a commitment to performing the very best both on and off the field. The large load capacity, high stability, environmental protection and energy saving meet customers' increasing needs for high-efficient and environmentally friendly solutions.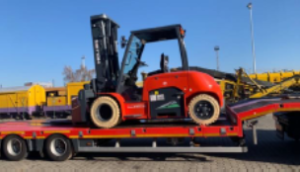 From Hungary
HELI Hungarian dealer recently participated in Hungexpo 2022. At the show, they displayed HELI's latest G2 series lithium-ion forklift, pallet truck and stacker which were well received by the customers. With the strict requirements on low carbon and environmental protection, the trend of forklift electrification is obviously inevitable and accelerating. Compared with lead-acid battery, the advantages of applying lithium battery on forklift are more obvious, such as in battery capacity, charging time, service life and power performance….making the lithium products ideal for European users.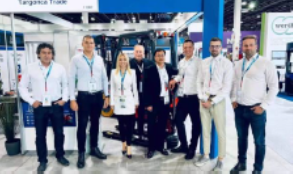 From Spain
HELI Spanish dealer, as the gold sponsor, recently attended the conference held by Spanish association of forklift companies (AECE) in Madrid in the name of HELI company. During the event, HELI Spanish dealer was elected to be one member of the Board of Directors and showed some main products on-site, fully interprets the diversity of HELI products. Furthermore, HELI Spanish dealer will present the upcoming convention of National Association of Aerial Work Platform Rentals (ANPAT) at Toledo, also serving as gold sponsor.
By means of participating such conferences, it is of great significance to improve the competitiveness of HELI in overseas markets, enhance the popularity and influence of HELI brand in overseas markets.
---
In addition to the official newsletter, you are also encouraged to follow our social media accounts and interact with us at any time!
Facebook:https://www.facebook.com/heliforklifts
LinkedIn:https://www.linkedin.com/company/heliforklifts/
Youtube: https://www.youtube.com/c/HeliForklift
You can also find the new HELI forklifts on our Öhman Trukit website here.
In addition to the official newsletter, you are also encouraged to follow our social media accounts and interact with us at any time!
Facebook:https://www.facebook.com/heliforklifts
LinkedIn:https://www.linkedin.com/company/heliforklifts/
Youtube: https://www.youtube.com/c/HeliForklift
You can find the new HELI forklifts on our Öhman Trukit website here .