Keväinen tervehdys Öhman Trukeilta!
Uutiskirjeemme sisältää uutisia HELI trukkivalmistajalta, trukkitarjouksia sekä kutsun Jyväskylän Kuljetusmessuille. Kuljetusmessut järjestetään toukokuussa to 25.5. – la 27.5. Linkki Kuljetusmessujen kutsuun on uutiskirjeemme lopussa. Alla HELI trukkivalmistajan kuulumiset englanninkielisen uutiskirjeen muodossa.
HELI uutiskirje sisältää:
Uuden HELI H4 sähkötrukkisarjan esittelyn – miksi valita H4 -sarjalainen?
Kolmannen sukupolven litiumakulliset HELI lavansiirtovaunut
HELI G2 sarjan 1.6 – 2.0 t työntömastotrukki
HELI G3 sarjan tuotekategorian esittelyn
Mukavia lukuhetkiä!

HELI Newsletter No. 1/2023
NEW H4 SERIES ELETRIC FORKLIFT LAUNCHED
New series, new products! As the fourth generation of H series electric products, it follows the latest HELI product appearance design. Dual-core controller and OPS protec­tion for your safety. lntelligent UI, bringing you an unprec­edented human-machine interaction experience!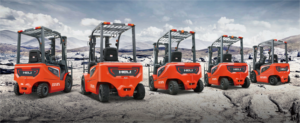 What's H4 series?
New launched H4 series 1.5ton to 3.8ton electric forklifts has 2 optional power source lead acid battery or lithium battery. Also similar with G2 special lithium battery fork­lifts for H 4 series we still have 2 power models for each tonnage like S-standard model and M-powerful model. Regarding customer' s different requirement we offer Chinese controller and imported Inmotion controller on these products more choices are under developing. For li-ion models the lithium battery has HELI brand as stan­dard also you can choose the battery with CATL cells as option.
H4 series is the upgrade generation of H3, providing more abundant power configura­tion, with updated appearance design, and key parts are using mature technology of HELI middle & high-end products line.
Based on the design concepts of 'comfort, efficiency, reliability, safety and intelli­gence' and serialization, platform and modularization, the perfect ergonomic design will bring users a brand-new driving experience, which extremely demonstrates the strong strength of Heli to lead the development of the industry and help the double carbon target.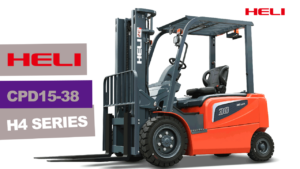 Why choose H4 series products?
Design highlights
The main components of the cabin of H4 series 1.5 ton to 3.8 ton on electric forklifts are all shared. Taking the 1.5 ton vehicle as an example, its driver leg space, head space and operating space are all consistent with the 3.8 ton, which is very spacious and comfort­able.
On li-ion models, we designed with built-in charger for the customer whose working condition is light and with only have low electricity voltage. This charger is installed inside the truck body and can be charged with regular electricity not industrial elec­tricity. Making it more convenient to use anywhere.
Follows the design of G series – the right-mounted operate valves as standard configu­ration, more efficient and saves efforts.
Reliable R&D process
 Key components of this forklift truck adopt mature products with reliable technology, which are widely used in HCL products and have passed the market verification with good feedback. At the same time, some components are upgraded, such as drive axle compared to H3 series' welded axle housing and split brake drum, upgraded to inte­gral casting type with higher reliability.
 As an electric product the safety of electrical components is always a concern. In the H4 model it is equipped with a dual-core controller that meets the require­ments of CE certification with more excellent safety and maneuverability. The electrical adopts multiple protections such as short-circuit protection overheat­ing protection low-battery lockout protection and sequential protection. The whole machine is designed in strict accordance with the latest EU standards with high intelligence and good safety.
Strict tests standards
HELI has very strict test standards for all products. H4 passed all the test during R&D process including rain test (IPX4 protection level) cold storage test (-20 C), vibration test, reinforcements test (800 hours) etc. To make sure the excellent performance of the products.
---
The 3rd Generation Lithium Powered Pallet Trucks
The third generation of HELI lithium battery pallet truck, 2022 new upgraded model. As one of the classic and popular models of HELI warehouse products, it is suitable for ultra-narrow aisle operation and widely used in food, supermarket, logistics, pharmaceutical and other industries.
HELI 3rd Generation Lithium Powered Pallet Truck
G2 Series 1.6 – 2.0 ton Reach Truck (Sit-Down Type)
lt is ideal for narrow aisle and high altitude work, it combines advanced technology – ZAPI dual CPU controller and newly designed 80 v motor, with the following advantages fast driving & lifting speed, higher lifting height and more load capacity. Small turning radius makes it more flexible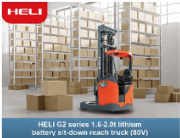 ---
HELI G3 SERIES LITHIUM BATTERY COUNTERBALANCED FORKLIFT TRUCK OVERVIEW
PART 1 General Introduction
HELI products line mainly consist of K, H, G three series, of which the planning of lithium-ion products in G series has completed the 3rd generation – G3 series 1.5 ton to 10 tons products development and bulk sales.
The G3 series, as a very important part of HELI products line, mainly aims at middle and high-end customers. lt adopts the family appearance design with red and silver color, 80V voltage standard, also equipped with integrated electric axle or dual motor drive axle, Italian ZAPI controller and other important parts com ponents to ensure its excellent performance.
lf you need a forklift with fashionable appearance, high-end configuration and strong comfort, then G3 series is your first choice.
G3 product platform is divided into: 1.5-3.ST, 4-ST and 6-l0T, we introduce them respectively.
PART 2 Product Category Introduction
6-10 ton Lithium Battery Forklift (Front Dual Drive)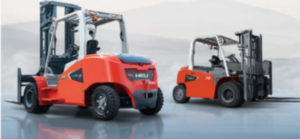 Point 1 Product lntroduction
HELI newly developed 8.5-10 ton lithium battery product this year, since then, G3 series 6-10 ton lithium battery product have been completed. lt has the characteristics of reliable struc­ture, superior performance, comfortable operation, safe and stable, intelligent operation, high charging efficiency, convenient maintenance, and good durability.
Point 2 Reliable and Flexible
The key parts are made of famous brands in the industry, such as Kessler drive axle, Schab­mueller motor and ZAPI electric control, with stable quality and excellent performance.
At the same time, we need to mention that the overall design of G3 series 10 ton forklift truck is compact, the body length is only 3842 mm, which is nearly 40 cm shorter than the IC model, similar to the size of 7 ton IC forklift truck. The smaller body size and larger load capacity pro­vide users with a more flexible operating experience.
Point 3 Large Capacity Battery and Various Options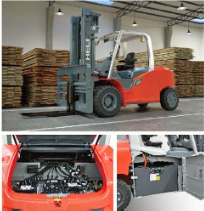 HELI battery is equipped as standard – with years of forklift battery experience, stable per­formance and guaranteed quality, battery capacity 606 (6-7 ton) 808~ 1212Ah (ali series). Another option is PENGCHENG brand (with CATL battery core), battery capacity 606~684 (6-7 ton), 813~ 1084Ah (the whole series), to meet the requirements of different intensity working conditions! At the same time, it' s equipped with dual-gun charging function, makes 24 hours of work possible!
4-5 Ton Lithium Battery Forklift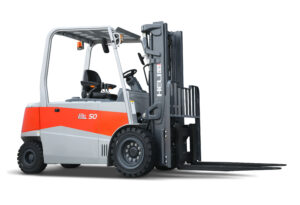 Point 1 Product lntroduction
As the earliest developed of G3 series, it uses the new G3 red and silver fashion design, bronze tripod style shape counterweight what has become the G3 family shape. Punch-formed over­head guard, new wide-view mast, IPX4 whole vehicle rainproof grade, turning intelligent deceleration, etc., Ali reflect the innovation of Heli's R&D technology, human-oriented design concept.
Point 2 Wide Range of Usage Scenarios
G3 series 4-5 ton lithium battery forklift have excellent configurations to meet a variety of universal working conditions and handling needs in terms of efficiency, protection and flexibility, including construction and building materials, medicine and health, petrochemical, food and beverage, mechanical and electrical and logistics handling industries, and also can be used in factories, stations, ports, containers, warehouses and other places
.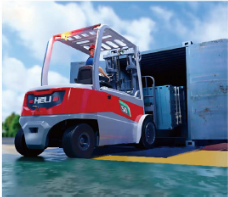 26.SKW high power full AC lifting motor, 12.5% higher lifting speed and working efficiency.
The overall protection level of the motor part reaches IP54, with improved dust­proof and waterproof performance.
The height of standard overhead guard is 2270 mm-2275 m, and the M300 mast lowered height is 2230-2240 mm, which can adapt to the container operation demand, easily enter and exit the container.
lt can be equipped with all kinds of attachments with Class 111 installation, such as soft package clamps, paper roll clamps, brick clamps, etc., for indoor and outdoor operations in brick factories, paper mills and other working conditions.
1.5-3.5 Ton Lithium Battery Forklift (Front Dual Drive)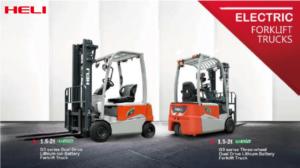 Point 1 Product lntroduction
G3 series 1.5-3.5 ton dual drive lithium battery forklift truck is a short wheelbase model, equipped with Italian ZAPI controller and display. With flexible mobility, excellent perfor­mance, green environment protection, low noise and high efficiency. lt is mainly suitable for users who are particularly interested in "dual drive", "wet brake", "side shovel battery", "right valve operation", "narrow channel", etc.
Point 2 Excellent Components
The product adopts ZF dual-drive transmission with high-efficiency dual AC drive motor, wheel-side reducer and wet brake axle, which is highly efficient and low noise, mainte­nance-free, reliable with IP54 protection level. Strong power performance and over 20% climbing capacity under full load.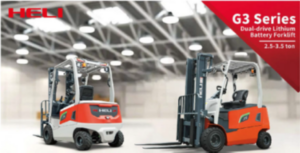 Point 3 Man-machine Engineering
Unlike other products where the operating valve is located on the steering wheel side, this product innovatively places the valves on the right side. lt is easy to operate, does not block the view, and effectively reduces the operate strain. Full suspension seat, shock absorption and brings more comfortable. Foot-operated parking brake, make the operation more conve­nient and labor-saving.
---
TARJOUS!
HELI CPD35 G3 sähkötrukki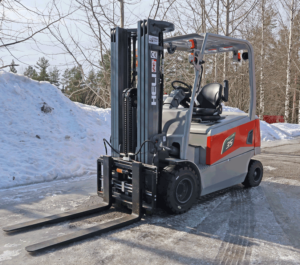 Tehdastakuu 2 vuotta / 2 000 tuntia.
Kahdella ajomoottorilla ja märkälevyjarruilla
Minivivuilla
Tarjoushintaan 39 900,- (+alv 24 %)
Kysy lisää:
Kimmo Kytölaakso puh. 050 305 0030
TARJOUS!
Lavansiirtovaunu HELI CBD15 Li2 
Sähkökäyttöinen lavansiirtovaunu HELI CBD15 Li2 Litium-akulla. Kevytrakenteinen ja helppokäyttöinen. Sopii erinomaisesti pieniin varastoihin tai esimerkiksi jakeluautoihin. Irroitettavaa Litium-akkua voi säilyttää ja ladata vaikka kuorma-auton ohjaamossa.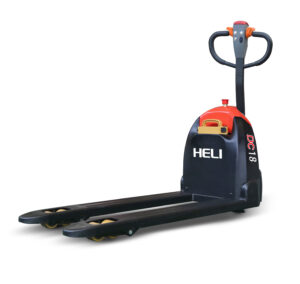 Tarjoushintaan 999,- (+alv 24 %). Norm. 1 750 + alv.
---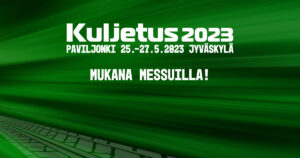 Kutsumme Sinut Kuljetus 2023 messuille ja osastollemme C-322
Kuljetusmessut on kattava koko kuljetusalan läpileikkaus, jossa on laajasti esillä sekä raskas- että kevyt kuljetuskalusto. Kuljetusmessuilla osastollamme on nähtävillä useita eri HELI vastapainotrukkeja sekä varastokoneita.
Ilmoittaudu alla olevasta linkistä. Kutsukoodi on POGELT. Messukutsu on henkilökohtainen ja voimassa kaikkina messupäivinä.
Ollaan yhteyksissä ja nähdään messuilla!
---